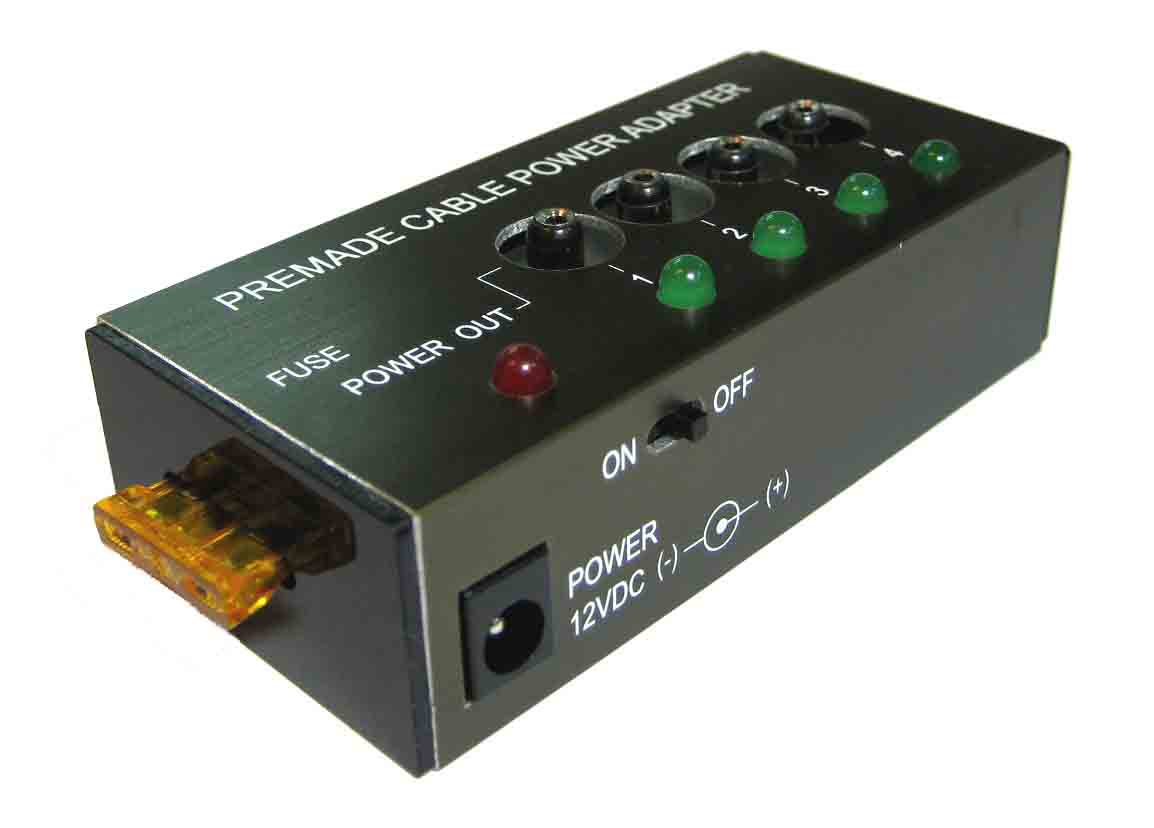 Introduction
The Premade Cable Adapter is designed to use off the shelf premade cables to install CCTV equipment and connect them to a single 12VDC wall adapter without any wire cutting or splicing. This adapter has an individual power LED and short circuit protection for each camera. A master fused power switch and power LED for all four cameras.
Connections
Power Input – DC Coax 2.1mm x 5.5mm Jack
Fused with Standard 5A Blade Fuse Type
Main Power On / Off Slide Switch
Power LED (Red)
Power Output – DC Coax 2.1mm x 5.5mm Plug per camera
PTC Reset able Fuse 0.5A per camera
Power LED (Green) per camera
Function
Connect a standard wall adapter using a 2.1mm x 5.5mm DC Coax Plug to the Power input connector. Make sure the sum total of all the cameras current drain does not exceed the power source current rating or 2A Max. Upon turning on the Main Power switch, the main power Red LED will illuminate. The individual power output Green LEDs will also illuminate if there is no short and within the 0.5A current rating for each camera. If any cameras power has a short or exceeds 0.5A, the corresponding Green LED will be off. Internally are PTC reset able fuses so once the short circuit or overload is removed the power will be restored automatically.
Asia Representative
AVE Thailand Co., LTD.
147 Soi OnNut44, (Sampheenong Villa), Sukhumvit 77Rd., Suanluang, Suanluang, Bangkok 10250 Thailand.
Tel: +662 331 9364 Fax: +662 331 9365
Email: avesales@avethailand.com